ABOUT US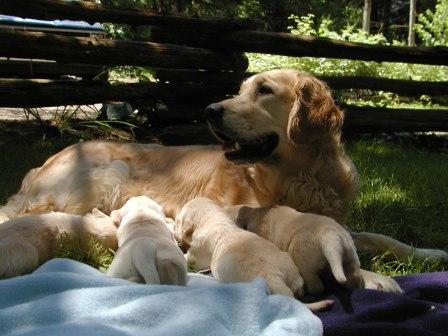 I have been involved with dogs since my young childhood. I was given a mutt for my 6th birthday a half Scotty and half Poodle. Her name was Meme and lived to be 18 years old with the love only a child could give. I had then a German Shepard puppy whom I enjoyed obedience classes with and some local shows.
After my Shepard about 25 years back I was given a Rottweiler puppy from my vet who was abused and neglected. I got involved with a neighbor whom breed Golden Retrievers because I had moved back home after a divorce with my dog Creedence my folks refused the dog but not me. My neighbor offered to board Creedence at her place in exchange for cleaning her house and kennels. While taking care of the cleaning and her dogs, I took advantage to learn a lot more. I went with her to Guiding Eyes where she was an instructor, learned a bit about pedigrees, breeding, whelped my first two Golden litters and raising the puppies with her.
I attend handling classes and obedience classes and have jumped back into the show ring. I also assisted and teached puppy kindergarten classes, grooming of Goldens, Springer Spaniels and had an in house and out of house dog sitting business. I have also been a leader of our local 4 H dog club. And have taken my dogs to the homes of my elderly clients while I was a HHA. This bringing lots of joy to my clients. But mostly enjoying my dogs daily may it be hiking, swimming or just snuggling on the couch on a cold New England night.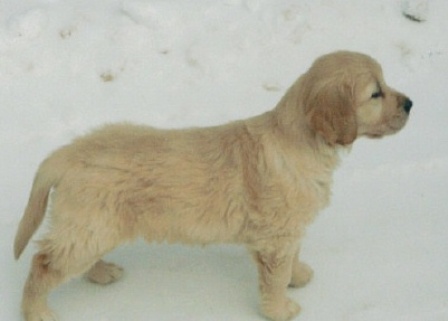 Over the years I have come to learn and grow as a breeder. I have come to love the English Type Golden Retrievers in structure, train-ability, type and soundness. Some of my favorite lines and dogs come from Grenadier, Kyon, Birks, and Trowsnest.
I am in good standing with the American Kennel Club and the Golden Retriever Club of America. I have the occasional litters which are raised in my home with my family and friends. We are genuine dog lovers and we care about the breed and where our pups go to live. We have meant many special people through our dogs, and love the breed as they deserve to be loved.
Should you decide to own a Golden Retriever, I hope you will be as happy as we are. When we have puppies, we do temperament testing in order to help place them with the right families. Our puppies are sold to approved home on non-breeding agreements and AKC Limited Registration. Included with each puppy sold is our commitment to provide you with on going support for the life of your new companion, as well as a comprehensive puppy package which includes important infomation on health, training, socializing and grooming your puppy. My Way Golden Retrievers and Brague d'Auvegnes has a wonderful 'Network" consisting of many Golden Retriever and Braque d'Aunvegnes breeders. If I can't answer your questions, we can find the answer from other breeders who have dealt with your individual problem or concern. We encourage our puppy buyers to contact us at any time after the sale of their puppy with any questions.
Please hug not just your child but your Golden and or Braque.